Tarheel Divers
Employees
Captain Billy Bell is the proud owner of Tarheel Divers and also serves in the capacity of one of our SCUBA Instructors (NAUI #23119) and as Chief Equipment Repair Specialist. Though also a vascular surgeon, he assures us that Diving is his true profession and that doctor thing is 'just a hobby'.
Leigh Bell is our store manager and is quite camera shy. I had to sneak this picture while she was explaining a Nitrox computer to a customer and couldn't duck behind the counter. :)
Helena Bell (yours truly), also known as Hel by her students, is the head of the Summer SCUBA Training program at Tarheel Divers. She is also the Webmaster of Divingbells.com (which means she got to decide NOT to include a photo) and store Videographer (click on Wreck Diving in order to see video of the Hutton). When not teaching, repairing regulators, filling Nitrox cylinders, or preparing for her Coast Gaurd Captain's Course she also manages the dive store (which means she gets to boss her little brother around).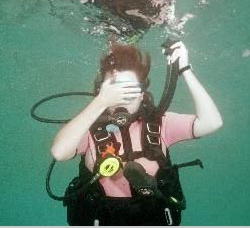 William Bell (picture to be added later) is the youngest member of the Divingbells family which means he gets to do all the work (lucky him). When not carrying your cylinders from the fill station to your car, assisting you with fin selection, carrying large boxes around, explaining complex physics problems when I want to confuse my students, or convincing you to buy a top-of-the-line Riffe spear gun, he... he... well I don't really know what he does in spare time since he doesn't have any. Soon Will (also known as Cinderelly) will be setting off to take his Instructor Training Course to become the third SCUBA instructor in the family.
William is also our In-House-Spearfishing Expert (at least when my mother isn't around), talk to him when you want to buy a new spear gun or want to find the really big fish.
Oh, and while you're at it... ask him about Breath Hold Diving... :)
Quotes:
"Diving is a smiling sport. If you're not smiling, you shouldn't be doing it." -Hel
"Don't let her [Hel] catch you saying that." -One of my students to another student when he referred to a cylinder as a tank.
"Never ever ever ever ever ever ever ever ever ever ever under ANY circumstances... hold your breath." -Hel
"The Swiss theory? In war stay neutral. Oh but you should hear the French theory, 'We hate you Americaines! Oh the Germans are coming? Oh we love you Americaines!" -Will after being asked to explain the Swiss theory on Decompression
"This is so EASY!" -a student who hadn't been diving since the 60s on his first experience with a BC
"Diving is my true profession, surgery is just a hobby." -Billy
"No." -Leigh's response to any question as to whether or not she'd like to take an ITC
"Well little tiny green men with sticks use black magic..." -Will explaining how the Visual Eddy system works
"Cinderelly, cinderelly night and day it's cinderelly..." -Hel and Leigh whenever we tell Will to do something
"Oh you need a band for your spear gun? Well the Riffe gun comes with those, here let me show it to you." -Will to someone who quite literally came in the store to buy a band, and walked away with a brand new Riffe Spear Gun. Now that's salesmanship.